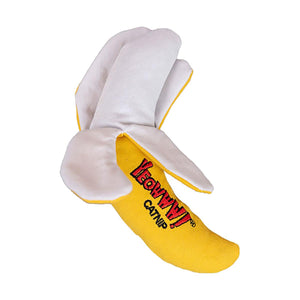 Yeowww! Peeled Banana Catnip Toy
This tasty treat has all the things cats love about the original Yeowww! Catnip  Banana plus some new features to make it even more ap-peeling. Like all Yeowww! Catnip products, the peeled banana is made of durable cotton twill and filled with our special 100% organically grown catnip – no fillers and no chemicals. It's tough enough to withstand kitty's energetic bites and kicks, and it has the curve cats love.
But why have just one catnip banana when you can have a whole bunch? The Yeowww! Catnip Peeled Banana is perfect for the kitty who is ripe for something new. This version comes pre-peeled so cats don't need to worry about not having thumbs, plus the peels are crinkly for extra fun!

Yeowww! has worked with a private farmers for years to cultivate the best organically grown catnip in the world. They also obtain samples from additional professional growers each year to ensure that they are offering the highest quality based on freshness, color and aroma. No chemicals or pesticides are used in cultivation, which means Yeowww! Catnip is completely safe for cats and humans. An all leaf and flower top blend ensures Yeowww! Catnip to be the strongest on the market that no competitor can compete with!

Each Yeowww! catnip toy is completely filled with this fabulous catnip. 100% stuffed FULL of premium, organically grown catnip. No cotton fillers, no plastic, and certainly none of that cheaper "toy grade" stuff. After all, they are catnip toys – shouldn't they be filled with catnip?