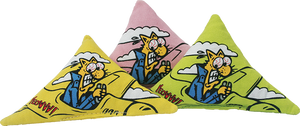 Yeowww! Purrr-Muda Triangle Toy (color varies)
Kitty will love you when you show up at home with a ticket to the PURRR!-Muda Triangle. Comes in three bright colors: green, pink and yellow. Color availablity varies, please choose 2nd color choice when checking out.
Yeowww! has worked with a private farmers for years to cultivate the best organically grown catnip in the world. They also obtain samples from additional professional growers each year to ensure that they are offering the highest quality based on freshness, color and aroma. No chemicals or pesticides are used in cultivation, which means Yeowww! Catnip is completely safe for cats and humans. An all leaf and flower top blend ensures Yeowww! Catnip to be the strongest on the market that no competitor can compete with!

Each Yeowww! catnip toy is completely filled with this fabulous catnip. 100% stuffed FULL of premium, organically grown catnip. No cotton fillers, no plastic, and certainly none of that cheaper "toy grade" stuff. After all, they are catnip toys – shouldn't they be filled with catnip?
Approx. 4''