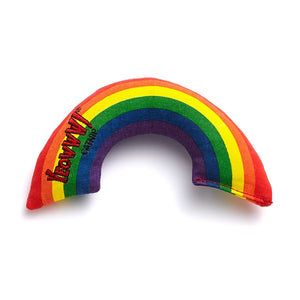 Yeowww! Rainbow Catnip Toy
Is your cat singing Judy Garland songs? Don't let 'em fool ya; it's catnip, not gold at the end of the rainbow. Packed full of 100% organic catnip, your cat will love the curve of this toy and its irresistible scent. The catnip inside of the Yeowww! Rainbow Catnip Toy is of a higher quality than most cat nip brands..

Each Yeowww! catnip toy is completely filled with this fabulous catnip. 100% stuffed FULL of premium, organically grown catnip. No cotton fillers, no plastic, and certainly none of that cheaper "toy grade" stuff. After all, they are catnip toys – shouldn't they be filled with catnip?
Approx. 6"