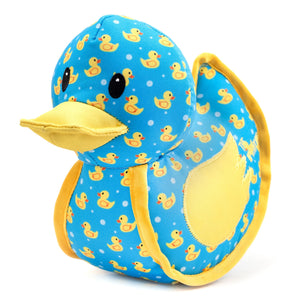 Quackers the Rubber Duck Toy - Large
The Worthy Dog Rubber Duck is a heavy duty stuffed toy that features quality materials that will stand up to both rough play and determined chewers for hours of vigorous fun. This toy has a tough and rugged fabric outer layer with a strong mesh fused lining and stuffed with safe, non-toxic fiber fill, each toy includes multiple squeakers to keep pups engaged. Tug & toss & play! Safe and soft for indoor play, but durable enough for romps in the yard or park.
Product Benefits: 
Strongly stitched seams
Safe, non-toxic material
Squeaks for Added Fun
Machine washable
9"x5"x8.5"